The Last Shadow Puppets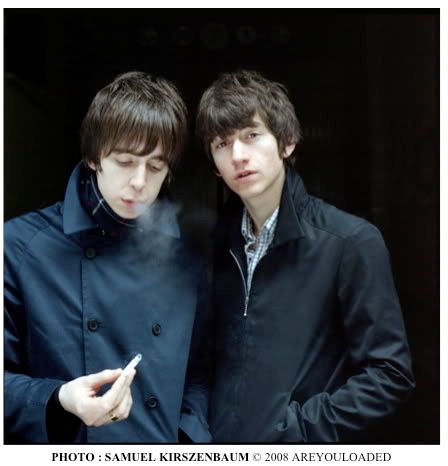 I realized today that I bought 2 copies of
The Last Shadow Puppets
,
The Age of the Understatement
LP in the last month. I liked it so much I bought it twice! That's a pretty resounding endorsement.
It's not like there was much of a doubt, though. I have sung the praises of the Arctic Monkeys enough here, but here we go again. LSP is a side project for Alex Turner (lead A. Monkey) and his partner Miles Kane, who has a band called The Rascals (more on them in a later post). They are old friends and decided to put out a record together. And while, of course, there are plenty of AM touches on the record, the inspirations for this record go much farther and wider. Imagine the AMs doing a Morricone spaghetti western soundtrack or a Hitchcock thriller. The sounds are grandiose and dramatic and very lush, as is the instrumentation. This ain't no British indie duo, but more like two young composers trying their hand at mixing pop music with an epic sensibility.
The record is a strong 7, but the single below is a strong 9.
The Last Shadow Puppets-
The Age of the Understatement
Plus I love the record cover:
Labels: arctic monkeys, hitchcock, last shadow puppets, morricone, the rascals